Získej perfektně naplánované výlety a staň se během okamžiku odborníkem na túry v BESKYDECH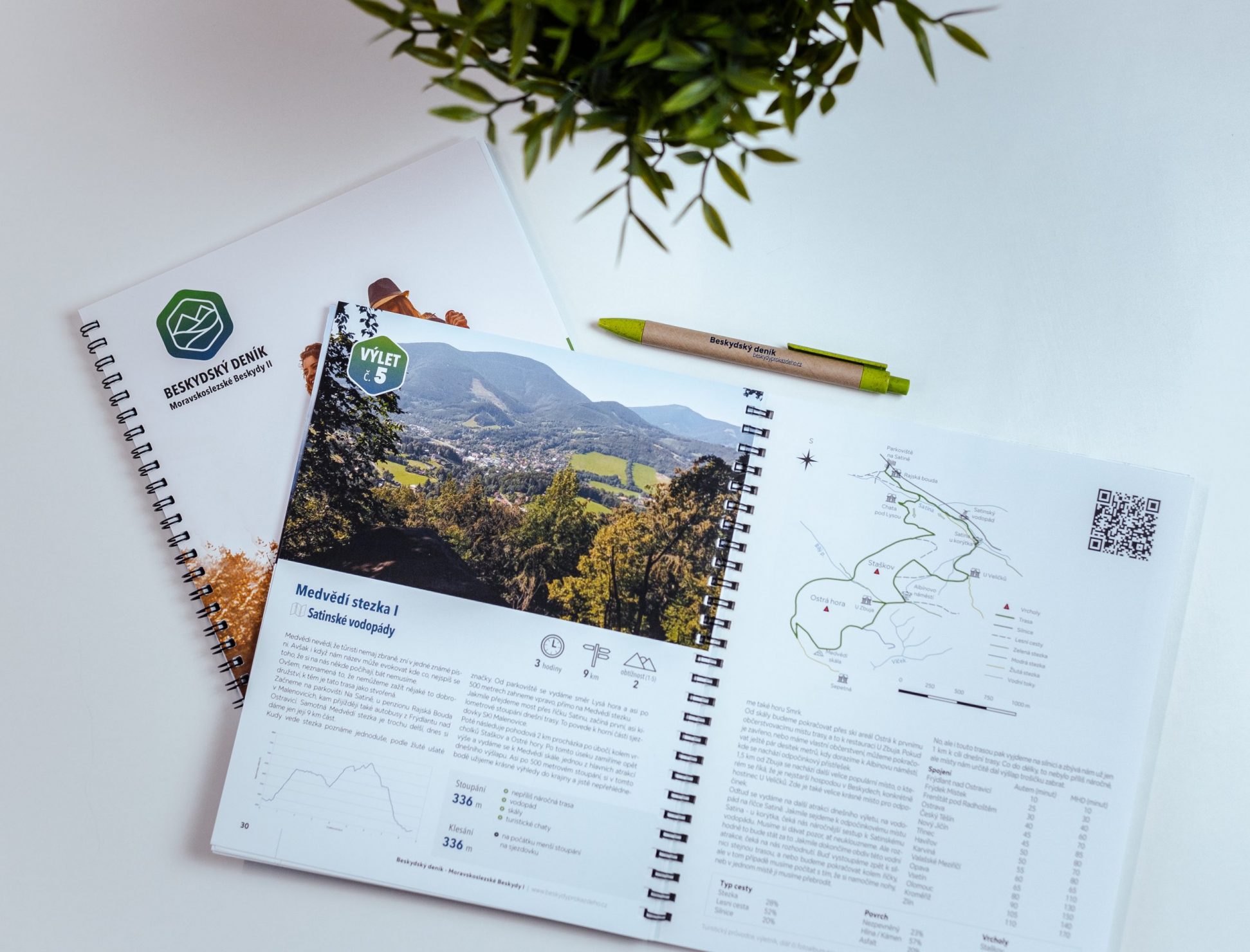 Co je Beskydský deník?
Tištěná publikace na odolném luxusním papíru, tak aby vydržela roky. Najdeš v ní kompletně naplánované výšlapy v Beskydech, nejpodrobnější informace o trase, můžeš do ní nalepit fotky, psát i kreslit zážitky.
Proč si pořídit Beskydský deník?
Od vydání 1. dílu Beskydského deníku už uběhlo půl roku. Více než 3000 kusů má své majitele, kteří nám píši krásné reference, jak jsou s deníkem spokojeni a jak ho užívají. Nejčastěji píši, že deník jim odbourává obavy z nějakého neznámého výletu, u kterého neví, kde zaparkovat nebo jak se tam dostat třeba autobusem a jaký bude průběh výšlapu. Ti pokročilejší jsou zase nadšeni z nových tras, které v denících objevili. Spousta nám také poslala fotografie svých deníků, ve kterých si nadšeně zapisují své výkony či zážitky a lepí si do nich pohlednice a fotografie ze zdolaných vrcholů se svou rodinou či přáteli. Najdou se i takoví, kteří už mají oba deníky téměř zaplněny. Pustíš se do toho taky? 
Nejsi ještě rozhodnut(a)?
Níže můžeš získat jeden kompletní výlet z Beskydského deníku ZDARMA a zjistíš tedy do čeho jdeš 🙂
Moc pěkné zpracování, mám oba..Super trasy a díky vám objevuji místa, kde jsem nikdy nebyla. Výborná práce. 👏👍😁
Tyto deníky jsem si objednala a jsou fantastické. Jsem ráda, že jsou a tento rok bych je chtěla celé vyplnit. Fotky, záznam...ale hlavně zážitky
Právě jsem zkoukla na stránkách. Paráda. Přesně to potřebuju. Objednáno. 🙂
Úžasné...přesně to potřebuji. ❤️❤️❤️
Kompletně naplánované výlety můžeš najít v Beskydských denících, co v nich můžeš získat?
Unikátního průvodce Beskydy pro začátečníky i pokročilé – Turistický deník a výletník 

Luxusní dárek pro sebe nebo své blízké, tištěný na prémiovém křídovém papíru

Mapu výletu – originální mapu s hlavními body zájmu
Digitální mapu na mapy.cz, stačí jedno kliknutí a můžeš vyrazit po vyzkoušených a bezpečných trasách
Fotografie výletů, ať víš do čeho jdeš
Kompletní popis výletu, ať orientačně víš, jaký Tě čeká průběh
Podrobné informace o trase, ať víš, po čem pošlapeš a kolik toho bude do kopce
Drtivá většina výšlapů je okruhová, tedy poznáváš neustále nové věci
Informace, za jak dlouho dojedeš na start ze svého domova autem či MHD
Deník, kde si můžeš zaznamenat své výkony, napsat zážitek nebo také nechat děti své dojmy z výletu namalovat
Fotoalbum, kam si můžeš nalepit své fotky či pohlednice
Beskydské osmisměrky, složené jen ze samých beskydských pojmů
Sadu samolepek počasí, pro rychlé a zábavné zaznamenání počasí
2 EKO propisky
Naplánovat výlet může trvat hodiny, deník ho za Tebe naplánoval jen za 30 Kč + výše zmíněné výhody, krása, ne ?
A v neposlední řadě něco, co můžeš vytáhnout i za 20 let, bez obav ze ztráty dat a zavzpomínat na skvělé výkony či zážitky
@ 2021 Beskydy pro každého